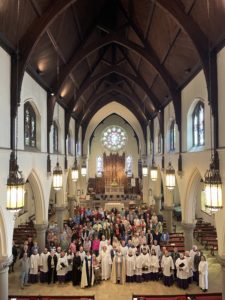 St. Luke's is an active, diverse, faith community that has been serving the people of Portland and the Diocese of Maine for more than 150 years. No matter who you are or where you might be in your spiritual life, you are welcome here!
Our 1867 cathedral is a historic treasure, filled with art and beauty including the American Madonna by Jean LaFarge and the Stations of the Cross by Portland artist Don Meserve. Our 1905 Emmanuel Chapel is remarkable in its architecture and intimate and beautiful space. Both the nave and chapel are frequently used for concerts, weddings, funerals, and other events for the Portland Community Our Christmas and Easter Worship Services, our Evensong Services, and choir are renowned across Maine. Our 1928 Skinner Organ is one of the best in the city and our organist and organ recitals are world-class.
We host a wide variety of worship services (both online and in-person). We offer education and spiritual formation for Pre-K through Adult, partner with other churches for both Portland and Diocesan-wide youth ministries (grades 6-12), and have our own young adult (20s/30s program) and adult programs. We have dynamic pastoral care and fellowship programs that reach out to nursing homes and hospitals.
We are home to two pantries, an active ministry to Haiti, and many other services to the wider community. We are welcoming to all and have been at the forefront of Marriage Equality, Immigration, Health care, Refugee Rights, Environmental Concerns, and other areas, often leading at city-wide events and activities.
We have over 50 concerts and music or arts events over the year and are the home of the Portland Rossini Club and the concert venue for many Portland-area groups including Renaissance Voices, the St. Mary Schola, and the Maine Pops. Our nave has been used for art shows, lectures, presentations, and other community events.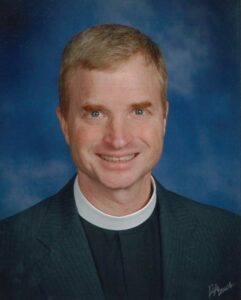 If you remember that in the middle ages,  universities began around cathedrals, it might begin to make sense that in the Anglican tradition, the rector or pastor of a cathedral is given the title of "Dean." A cathedral dean is the dean of the "college of clergy" of a diocese for the bishop (why a dean is the "Very" Reverend, while a bishop is the "Right" Reverend.)
St. Luke's dean, Ben Shambaugh (he/him), is an Episcopal priest who has lived and ministered in New York, Chicago, Washington D.C., Paris, Barbados, and around the American National Parks system. In addition, he has been involved in development work in Africa, Haiti, and First Nation Reservations in the American West. He has also led study tours to the Holy Land.
Ordained in 1988, Dean Shambaugh has served four congregations. Prior to coming to Maine, he spent ten years as rector of St. John's Church and School (home of African Palms) in Olney, Maryland.  In addition, he has a wide variety of mission experiences, including time as a chaplain at the National Cathedral in Washington, as Canon Pastor to the American Cathedral in Paris, and in his current position as Dean of St. Luke's Cathedral here in Portland, Maine. 
Additionally, Dean Shambaugh enjoys working in the local community. He serves on the board of St. Elizabeth's Jubilee Center, has served on the boards of Preble Street and the Religious Coalition Against Discrimination, and has taught as adjunct faculty on Bangor Seminary. He has been an advocate for marriage equality, ending hunger and homelessness, environmental justice, and indigenous rights. He has held numerous diocesan positions, including chair of the Standing Committee for the Episcopal Diocese of Maine and chair of the Maine Deputation to the Episcopal Church's General Convention. He currently serves as an ACS Chaplain for the United States Coast Guard in Sector Northern New England and as Branch Assistant for District One, with oversight of ACS chaplains in New York and New England. He is sought out as a speaker and writer, regularly preaching at the Temple for Ocean Park (The Chautauqua-by-the-Sea).
He has a Bachelor of Arts in psychology from Northwestern University, an M.Div. from the General Theological Seminary, and a D.Min. from Seabury Western Seminary. 
Dean Shambaugh is married and has two grown children. He enjoys hiking and playing his tuba in the Maine Pops, a local community band.
Canon for Liturgy and Music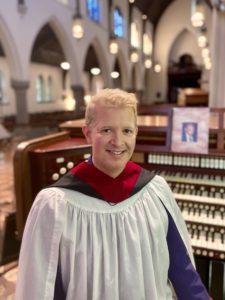 Christian M. Clough, Canon for Liturgy & Music, B.A., M.M., M.A.R., came to St. Luke's Cathedral in late summer 2022. He oversees a lively music ministry, that includes parish programs, as well as offerings for the Episcopal Diocese of Maine and the greater Portland community.
Christian is committed to broadening the musical expression of the cathedral, diocese, and community to better reflect the diversity of God's people, and to celebrate the richness of God's creation.
He began piano studies at the age of 6, and organ lessons at the age of 13.  While majoring in Geological Sciences at the University of Rochester, Christian took Music Theory as an elective, and was hooked on music. Following his graduation, he worked briefly at Walt Disney World, and took his first church music job in Central Florida, during which time he decided to pursue a profession in church music.  He earned the Master of Music degree, with double concentrations in Organ Performance and Choral Conducting, from the Yale University School of Music and Institute of Sacred Music (ISM) in 1997.  He spent a year taking organ lessons in London, England, and later returned to Yale University Divinity School (and ISM) for the Master of Arts in Religion (Liturgical Studies concentration), which he received, magna cum laude, in 2003. He has studied vocal performance and organ improvisation.  Prior to his appointment at St. Luke's, he served Episcopal congregations in central FL; Central New York; Connecticut; Santa Barbara, CA; Washington, DC; and most recently, more than a decade at St. Paul & the Redeemer Episcopal Church, Hyde Park, Chicago, IL.
Christian grew up in Hamilton, NY. In his spare time, he enjoys cooking, writing, traveling, photography, birdwatching, studying foreign languages, and the pursuit of a variety of outdoor activities. He is particularly interested in the life and worship of the Shakers, and is associated with the still-active Shaker community at Sabbathday Lake, north of Portland. He and his husband (the Rev.) Christopher Worthley, who grew up in Kennebunk, reside in South Portland.
Parish Administrator and Communications Specialist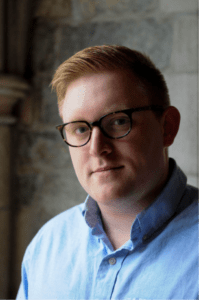 Avery Schott, Parish Administrator and Cathedral Communications Specialist, began at St. Luke's in the early summer of 2022.
Avery is a lifelong Episcopalian. He began singing in the rich music traditions of the Episcopal Church at St. James's Episcopal Church in West Hartford, Connecticut.  There he had the distinct privilege of working with great choral masters Dr. Jason Roberts and Vaughn Mauren who inspired him to pursue collegiate music studies.
Avery graduated Cum Laude in 2020 from Butler University in Indianapolis, Indiana. While at Butler he obtained degrees in Vocal Performance (B.A.) from the Jordan College of the Arts studying with Dr. Thaddeus Bourne and Dr. Kirsten Gunglogson, as well as obtaining a degree in Peace and Conflict Studies (B.S.) from the College of Liberal Arts and Sciences. While in Indianapolis, Avery collaborated with many talented musicians and activists to understand how music making and community building might be used to create a more sustainable and harmonious world. He has sung under the baton of Dr. Eric Stark, Dr. John Perkins, and Dr. James Caraher while at Butler, participating in both operatic and choral works.
Avery also had the distinct pleasure of both being a section leader and later the director of the choral program at Roberts Park United Methodist Church in downtown Indianapolis. Upon moving to Maine in July of 2021 Avery served at St. Alban's Episcopal Church in Cape Elizabeth, as their interim choral director.
Avery has also served as a behavioral health professional for children with special needs in both public and private school settings. Currently, Avery is a masters candidate in the Counselor Education program in Clinical Mental Health Counseling at the University of Southern Maine.
Avery lives in Auburn with his fiance Bethany along with their cats Tisane and Mackworth as well as their dog, Hadlock.  He is an avid lover of golf, choral singing, cooking, nature walks, and whale watching.
Avery is deeply grateful for the ability to serve at the cathedral and the ability to build community with the parishioners of St. Luke's.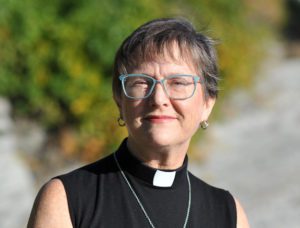 Suzanne grew up in Maine and is a retired primary care physician, in addition to serving at the Cathedral as an Associate Priest.  She lives in South Portland with her husband, and is the proud mother of three adult daughters and one elderly dog.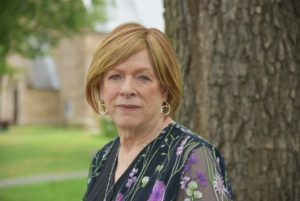 Serving as a deacon at the Cathedral Church of St. Luke is one of the highlights of Rebecca's life. Ordained deacon in June of 2009, she initially served at the former St. Mark's (now Emmanuel Lutheran Episcopal Church) in Augusta. Social justice and working with the marginalized is a primary focus of Rebecca's ministry. Prior experience includes establishing and sustaining outreach and prison ministries. Professionally, Rebecca holds a Masters in Public Administration and serves as the Director of Administration at the Maine Public Employees Retirement System.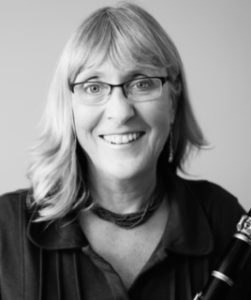 Nina Andersen has been providing nonprofits with personalized bookkeeping and financial management services throughout Maine since 2006. She brings 40 years of experience in the nonprofit world in a variety of roles starting as the Municipal Clerk in a remote village in Alaska in the 1980s.  After moving to Maine in 1987 she has worked in local government and with a number of nonprofits prior to starting Nonprofit Basic Bookkeeping Services in 2006.    She knows that each nonprofit comes with its own mission and strives to support that at the level needed, ensuring access to accurate financial information to assist in the organization towards its goals. She has been the Finance Administrator at St Luke's since July of 2019 and has enjoyed working with and supporting the Treasurer, Finance Committee and the members of St Luke.
Nina is also an accomplished musician - conductor and clarinetist/saxophonist.  She founded and directs the Southern Maine New Horizons Band based in Portland and performs with a variety of groups in the area.
| | | |
| --- | --- | --- |
| Peter Bingham | Gayl Anglin | Joanne DeKay |
| Jamie Cough | Jane Briggs | Oscar Mokeme |
| | Alfred Nyarwaya | Dan McDonald |
St. Luke's Vestry (sometimes called the Lesser Chapter) is the governing body of the Cathedral Church of St. Luke. It holds formal responsibilities defined by diocesan canons and the Bylaws of the Lesser Chapter and operates much like a board of di rectors. 
Nine Vestry members (plus a Senior Warden and a Junior Warden) oversee the business and programs of the Cathedral throughout the year. Vestry members are nominated from active parishioners and elected at the Cathedral's annual meeting for three years of service. Wardens are nominated and elected to serve staggered two-year terms. The Vestry meets monthly from September through June.