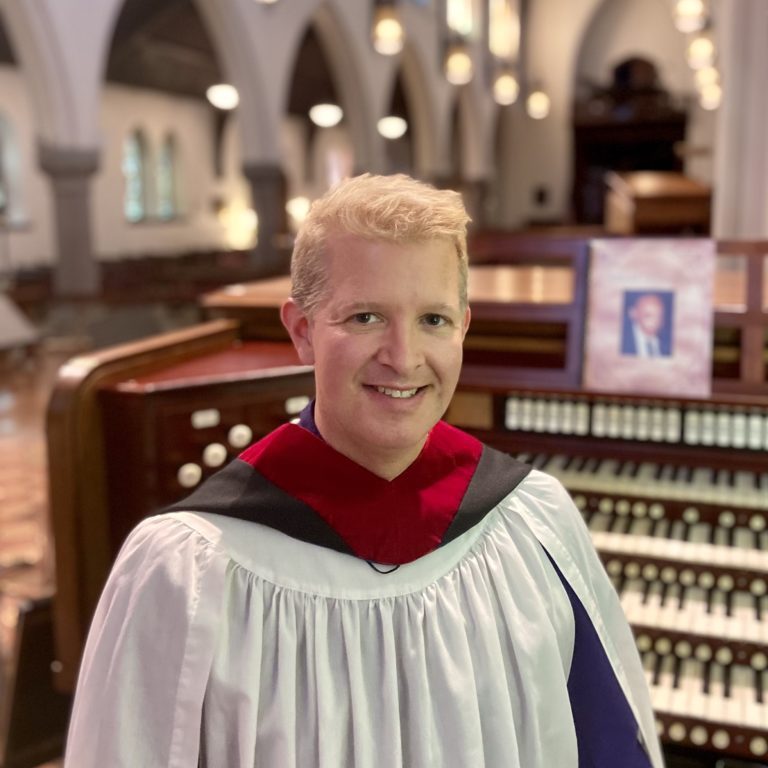 Christian M. Clough, Canon for Liturgy & Music, B.A., M.M., M.A.R., came to St. Luke's Cathedral in late summer 2022. He oversees a lively music ministry, that includes parish programs, as well as offerings for the Episcopal Diocese of Maine and the greater Portland community.
Christian is committed to broadening the musical expression of the cathedral, diocese, and community to better reflect the diversity of God's people, and to celebrate the richness of God's creation.
He began piano studies at the age of 6, and organ lessons at the age of 13.  While majoring in Geological Sciences at the University of Rochester, Christian took Music Theory as an elective, and was hooked on music. Following his graduation, he worked briefly at Walt Disney World, and took his first church music job in Central Florida, during which time he decided to pursue a profession in church music.  He earned the Master of Music degree, with double concentrations in Organ Performance and Choral Conducting, from the Yale University School of Music and Institute of Sacred Music (ISM) in 1997.  He spent a year taking organ lessons in London, England, and later returned to Yale University Divinity School (and ISM) for the Master of Arts in Religion (Liturgical Studies concentration), which he received, magna cum laude, in 2003. He has studied vocal performance and organ improvisation.  Prior to his appointment at St. Luke's, he served Episcopal congregations in central FL; Central New York; Connecticut; Santa Barbara, CA; Washington, DC; and most recently, more than a decade at St. Paul & the Redeemer Episcopal Church, Hyde Park, Chicago, IL.
Christian grew up in Hamilton, NY. In his spare time, he enjoys cooking, writing, traveling, photography, birdwatching, studying foreign languages, and the pursuit of a variety of outdoor activities. He is particularly interested in the life and worship of the Shakers, and is associated with the still-active Shaker community at Sabbathday Lake, north of Portland. He and his husband (the Rev.) Christopher Worthley, who grew up in Kennebunk, reside in South Portland.