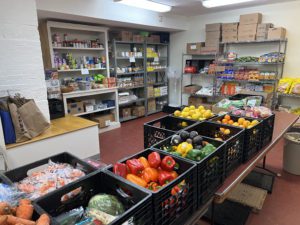 St. Lukes' Food Pantry is a long-running Cathedral ministry. Begun in 1998, it has evolved into a weekly Thursday morning 8-11 pantry which currently serves approx. 100 families. We operate out of the Cathedral's rear entrance at 134 Park Street.
We buy food from Good Shepherd Food Bank and get salvaged food and great assistance from South Portland Food Cupboard, Wayside Food Programs and Maine Coast Fishermen's Association. Our neighbors are diverse: long-time Mainers, new immigrants, and those facing short-term food shortages.
Our band of 10-15 dedicated volunteers gather together the fresh, frozen, and canned food Wednesday mornings and distribute it on Thursdays.  Some work one day, some both days. All of us find the work compelling and each other's company enjoyable.
We benefit from loyal volunteers and donors, but the cost of food always increases and the need is always greater than our capacity.  Please consider stopping by to see us in action either morning or by donating our most-needed items: flour, oil, pasta, dried beans. Food donations can be left at the rear of the Cathedral under the portico or brought to any church service.
Financial donations allow us to buy food from Good Shepherd Food Bank. Even when our visitor numbers surge, nobody goes away empty-handed; but we do strive to offer more than canned fruits and vegetables. Please donate online: https://onrealm.org/StLukesCathedra/-/form/give/FOODPAN
For more information:
Email Mary Brighthaupt, Exec. Director, St. Luke's Food Pantry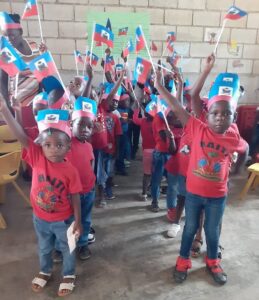 We have a passion for providing education and resources for children around the world. This is why we've partnered with the school of St. Simon and St. Jude, located in the rural  mountains area of southern Haiti.
This collaboration supports the basic needs of the school children in Duny, Haiti. Current projects include providing lunches, scholarships, facility maintenance, and hurricane relief. We love the relationship we've built with the people in this community. Please consider donating or providing other resources to this partnership.
For more information, email Karin Draper or Meredith Cough.  
 St. Elizabeth's Essentials Pantry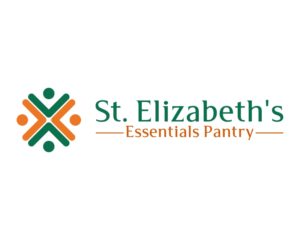 St. Elizabeth's Jubilee Center a non-barrier Essentials Pantry located at St. Luke's Cathedral is a diocesan ministry project which seeks to provide basic daily essentials to those living in need in the greater Portland, Maine area.
The Essentials Pantry continues to serve 250+ neighbors every Tuesday morning from 8:30 to 11 am. Essential items include toilet paper, laundry detergent, bath soap, etc. Each week, a unique item is offered. In addition, dental care products, diapers, soft housewares, and hard housewares are provided monthly. 
Congregations support St. E's financially, with volunteers, and by donating both new and used items. Each Tuesday, volunteers serve the public directly, sort donated items, and pack new items for distribution, among other things. 
In-kind donations can be left in the blue St. Elizabeth donation box in the lower hall, next to the stairs. We do not accept donations of clothing, but we do welcome donations of winter coats, hats, gloves, and scarves. For more information, email Sarah Borgeson.
Many parishioners also volunteer with programs fighting hunger and homelessness through Preble Street.
Greater Portland Family Promise

Family Promise helps families in Greater Portland transition from homelessness or risk of eviction to stable homes. While the pre-COVID model worked with faith communities such as ours for temporary housing, the current model has changed the focus to connecting families with needed resources such as food, bus passes, and quarters for laundry and housing.
Volunteers at St. Luke's work with graduate families directly to support them. St. Luke's also provides space for the Family Promise monthly Peer Advisory Council (PAC), where families mentor new families and helps to train new volunteers. We also host the monthly distribution of culturally appropriate foods to program families.
To get involved, please email Connie Bingham or Mary Linneman.
Public Policy & Environmental Action Team (PPEAT)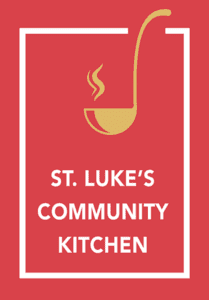 Our Mission: Our mission is to provide affordable commercial kitchen space to start-up food businesses and small ventures that benefit the local economy, food system, and underserved entrepeneurs while helping sustain and expand the Cathedral's service to Portland and the state.  Please learn more about us by clicking on our logo.
St. Luke's Community Kitchen offers a commercial kitchen space to groups and individuals who are in need of an affordable kitchen and meeting space. Many community organizations are able to utilitze to space to serve their underrepresented or at-risk populations. We also offer below-market rates to individuals starting or expanding their food or catering business. The kitchen adopted the model of universities, colleges, institutions, and organizations across the country which have used their under-utilized kitchen space to serve the community and raise funds for their organization.
All renters of the kitchen are required to show proof of liability insurance before contracting with St. Luke's Community Kitchen. The kitchen's 350' square area has been redesigned to maximize the space and made more efficient by state-of-the-art commercial equipment. The space is rented to one business/client at a time and offers privacy and a reserved parking space right outside the kitchen. A full-time on-call manager is available to support kitchen clients, including a Women's Business Owners Round Table offering resources, expertise, and advice.
St. Luke's has deep roots in the community and the Kitchen Management Committee continues to nurture these while forging new working relationships with a wide range of institutions, nonprofits, businesses, community health organizations, schools, and immigrant-serving organizations. This vast network, the outstanding reputation of the cathedral, and the great demand for kitchen space have resulted in enthusiastic interest and demand for this unique, user-friendly space. Since the first day of the pilot, St. Luke's Community Kitchen has received the public endorsement and support of the food industry and community leaders.
For more information about renting the Community Kitchen for your business or next event, or to join the KMC team email Dawn Brennan-Daly, Community Kitchen Manager.
Becoming Beloved Community
As clearly demonstrated throughout our nation, systemic racism pervades every secular and religious body in the United States. Prejudice and discrimination prevent all people from full and equal participation in God's plan for Beloved Community within St. Luke's and in the greater community where we live and serve. Like our nation, and following the example of the national Episcopal Church, St. Luke's must examine its structure and practices to address any obvious or subtle forms of racism in its quest to become Beloved Community.
We look forward to collaborating with other St. Luke's ministries in these efforts. For more information, please contact the parish office.
Sacred Ground is a film and dialogue faith-based program to raise awareness about the history and issues of racism in the United States. For more information, email Sarah Dowling

.

The Diocesan Racial Justice Council seeks to educate, advocate, and create or coach in justice liturgy for the diocese of Maine. For more information, contact the parish office.
See the National Church's Beloved Community Website  here and the report from the Presiding Officer's Working Group on Truth-telling, Reckoning and Healing prepared for at General Convention here

The Justice Commission of the Episcopal Diocese of Maine convenes members of each of the justice councils in the diocese: Climate Justice, Committee on Indian Relations, Episcopal Peace Fellowship, and Racial Justice. 
The LGBTQIA Ministry works to support and celebrate same-sex marriage and truly welcomes all people. St. Luke's has a long history of welcoming LGBTQIA members, being a leader in the fight for marriage equality, and being a proud participant in Portland PRIDE. The most recent LGBTQIA ministry has been through SAGE Maine. For more information, email John Hennessey.
Learn more about the Becoming Beloved Community on our blog.