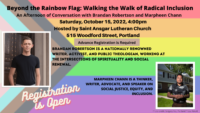 The Rev. Brandan Robertson to Preach at St. Luke's
We are thrilled to welcome the Rev. Brandan Robertson (a.k.a. "The TikTok Preacher") to St. Luke's on October 16th as a guest preacher. 
Rev. Robertson will be participating in an event the day prior regarding his vision of true inclusion in the church in tandem with action steps that we as individuals can take to be more inclusive in our communities and the wider world.
If you are interested in learning more about this event please click here.
For More information regarding Rev. Robertson, please read his biography below: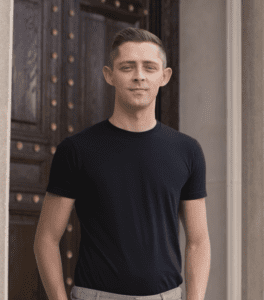 "Rev. Brandan Robertson is a noted author, activist, and public theologian working at the intersections of spirituality, sexuality, and social renewal. He currently serves as the Pastor of Metanoia Church, a digital progressive faith community and is the host of The Big Questions Podcast.
A prolific writer, he is the author of seven books on spirituality, justice, and theology, including the INDIES Book of the Year Award Finalist True Inclusion: Creating Communities of Radical Embrace. Robertson has bylines in publications such as TIME Magazine, San Diego Union Tribune, The Huffington Post, NBC, and The Washington Post, and is a regular columnist for Bishop John Shelby Spong's Progressing Spirit newsletter as well as Baptist News Global. Each year, Robertson speaks on a variety of topics across the globe and has been an honored speaker at renowned institutions such as The White House, Oxford University, and The Parliament of World Religions.  Named by the Human Rights Campaign as one of the top faith-leaders leading the fight for LGBTQ+ equality, Robertson has worked with political leaders and activists around the world to end conversion therapy and promote the human rights of sexual and gender minorities. Robertson received his Bachelor of Arts in Pastoral Ministry and Theology from Moody Bible Institute, his Master of Theological Studies from Iliff School of Theology, and his Master of Arts in Political Science and Public Administration from Eastern Illinois University. He is currently pursuing his PhD in Religion from Drew University. He currently resides in New York City."